Fibreglass Pultruded Handrails are available in many configurations, as per customers's requirements. They are an ideal choice in lieu of standard Steel or GI Handrails, in highly corrosive environments. Typical Handrails consist of :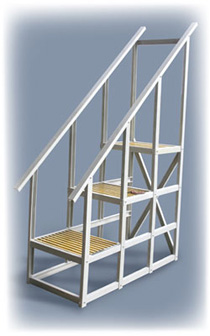 4 Vertical Posts
4 Top Handrail
4 Middle strength members and
4 Foot strips
They can be easily joined and installed at site, using our standard angle cleats.
4 Water / Wastewater Treatment Plants
4 Refineries / Chemical / Petrochemical Plants
4 Railroad
4 Pulp & Paper plants
4 Food and Beverage industry
4 Mass Transit system
4 Power plants
4 Marine & Offshore installationsmining
4 Fire equipment